900 Manor Road
Cinnaminson, NJ 08077
For Emergencies: Please dial 911
Non-Emergency Calls: 856-829-6667
Richard Calabrese, Chief of Police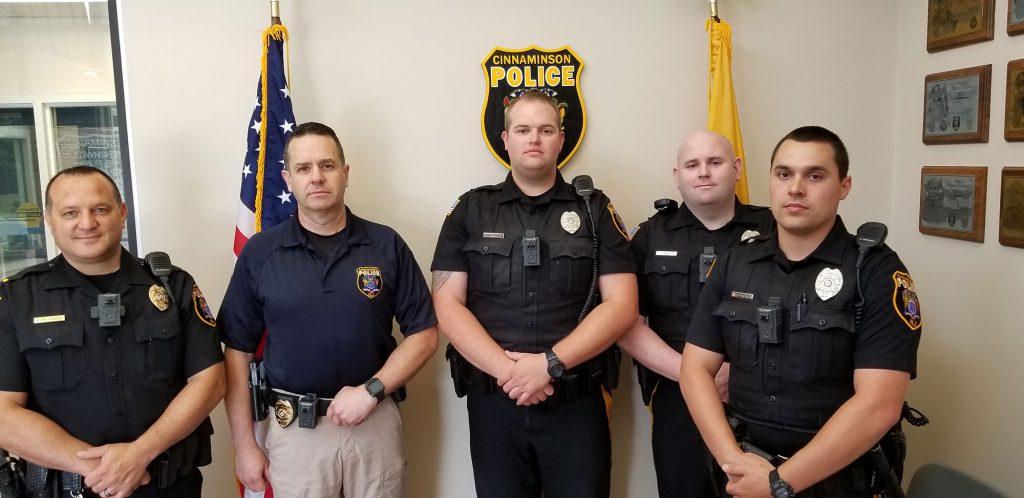 The Cinnaminson Police Department utilizes Body Worn Cameras and are worn as seen in the picture above.
Reporting Incidents to the Cinnaminson Police Department
To obtain copies of a police report:
Accident and Incident reports are available seven business days following the incident. Call 856-829-5294 to request a copy.
Residents who need to be fingerprinted for the purposes of a background check must make an appointment with the recognized vendor for the New Jersey State Police. The current vendor is MorphoTrak. To schedule an appointment on-line, go to www.bioapplicant.com or to speak to an operator at MorphoTrak, call 1-877-503-5981. Township residents who are given a set of fingerprint cards to be printed as part of a background check may report to the Cinnaminson Township Police Department at 900 Manor Road, Cinnaminson, Monday through Friday during normal business hours. Only local residents WITH their own fingerprint cards may receive service in this manner.
Apply For A Firearms ID/Permit
All applicants must obtain proper forms from Cinnaminson Police Department, Monday thru Friday, 8:30 am to 4:00 pm. Click below for more info:
Burlington County Prosecutor's Office Procedure for T- and U-Visa Nonimmigrant Status Application
The Cinnaminson Township Police Department is committed to providing the highest quality law enforcement services to our residents, businesses and visitors in a professional, expedient manner while displaying honesty, dedication, integrity and wisdom.
We will strive to reduce crime and the fear of crime in order to allow the people who visit and reside in our community to feel safe and secure walking our streets, traveling our roadways, conducting daily business, or enjoying the many recreational opportunities within our Township.
We will serve and protect our community, and enforce laws in an unbiased manner, maintaining respect for individual rights and human dignity.
We are committed to enhance the quality of life in Cinnaminson Township through community-oriented policing and community partnerships to address the cause of crime and community concerns.
We will make every effort to maintain safety and security in our schools. We are dedicated to the Youth of Cinnaminson Township and will utilize every available resource to maintain strong relationships with the Youth Community.